Following up on the recent relocation of other parts of the pro-Saudi "government-in-exile" to the southern Yemeni port of Aden, President Abd-Rabbu Mansour Hadi, who resigned back in January, arrived in Aden today from Saudi Arabia, intending to renew his rule of the nation.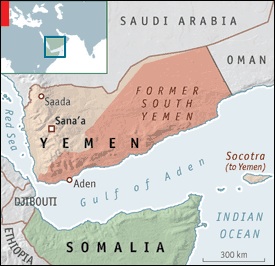 Hadi was elected to a two-year transitional term as president in early 2012, in a single-candidate vote. He rejected having elections after his term was up, but agreed to a power-sharing deal last September when the Shi'ite Houthis seized the capital city. Hadi finally resigned in January when talks on the terms of new elections weren't going as he's hoped.
After his resignation, Hadi traveled to Aden, and declared himself president again, vowing to oust the Houthis and return to Sanaa. Not long after, however, the Houthis took Aden and Hadi fled the country outright to Saudi Arabia. After this, Saudi Arabia declared war, vowing to reinstall Hadi as a "rightful" president.
With Aden and some of the surrounding coast recaptured, pro-Saudi forces have declared Aden the temporary capital and are setting it up as a seat of their government. Despite predictions of quickly taking the rest of the country from the Houthis, the fighting hasn't yielded much new territory in awhile, and many in Aden are flying the flag of old South Yemen, reflecting what is increasingly a de facto split.
Last 5 posts by Jason Ditz