A key aspect of the P5+1 nuclear deal with Iran is a resolution of the outstanding questions about Iran's past nuclear activities. According to IAEA Chief Amano Yukiya, this is going as expected, and will be completed on time, with the probe wrapping up mid-December.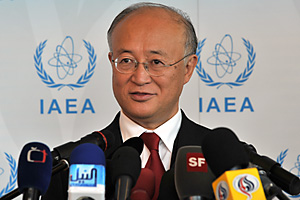 Amano confirmed that "much work needs to be done," but that Iran has provided all the information asked of them and that there is no reason that the IAEA can't sift through all the data by their tentative timetable of December 15, when the P5+1 hopes that stage to be completed.
Iran provided a massive cache of documents to the IAEA back in mid-August, and while IAEA officials have refused to get into specifics about what was in those documents, today's comments suggest that they got everything they wanted, as it affirms the December 15 deadline.
Amano still didn't offer any details, but did say there would be a list of follow-up questions sent to Iran on September 15 seeking clarification. He similarly did not make this appear to be an issue, suggesting these questions will be pretty limited.