In late August, Iraqi PM Hayder Abadi declared the town of Baiji, and its adjoining refinery, to be "crucial" to the war effort, and victory in the town to be a step toward wiping out ISIS. The comments were made at a time when virtually the whole town was held, and they were advancing on the refinery.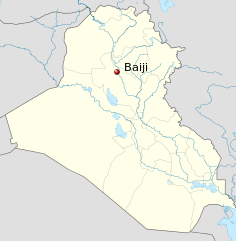 As is so often the case, once Iraq declares a target to be "crucial" to their war effort, they quickly lose ground in that area. In July and early August, Ramadi was the focus of the war, and as casualties rose in the attempts to surround Ramadi, they shifted the focus to Baiji.
Now, the Pentagon is warning that ISIS has greatly rolled back the former Iraqi military progress in Baiji, and is regaining considerable territory in the town. The Pentagon says much of the progress was "undone" in several days of ISIS offensive.
The Pentagon downplayed the defeat, saying they remain committed to helping the Iraqi military make "progress" against ISIS, despite that "progress" just adding up to more losses. This may mean that Baiji is falling out of favor as the war's "focus" and Iraq will have to choose another target in which they think they have a shot at beating ISIS.
Last 5 posts by Jason Ditz