A suicide bombing attack tore through the Salem Mosque in the town of Ariha, in the al-Qaeda-held Idlib Province of northern Syria today. At least 25 people were reported killed, though some put the figure as high as 40. The death toll included several al-Qaeda fighters, and reportedly a commander.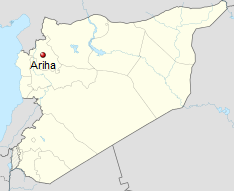 The mosque was packed because of iftar, the Ramadan fast breaking, and no group has yet formally claimed responsibility, though al-Qaeda officials were quick to blame ISIS, noting they'd often used this tactic in the past.
Al-Qaeda's Nusra Front had been consolidating gains in the Idlib Province, mostly over Syrian military forces and secular rebels, for months, and is believed at this point to hold materially the whole province. They also hold parts of the neighboring Aleppo Province, where their claims run up against ISIS territory.
ISIS and al-Qaeda have been fighting off and on for the past couple of years, with ISIS seemingly mostly having the advantage, though the Idlib Province has given al-Qaeda its own power base. Today's attack may indicate ISIS intends to challenge that holding.
Last 5 posts by Jason Ditz