Major fighting was reported today along the northeastern Lebanese border with Syria, as ISIS forces launched a cross-border attack against several Hezbollah posts along the border near the village of Ras Baalbek, the biggest raid into Lebanon in weeks.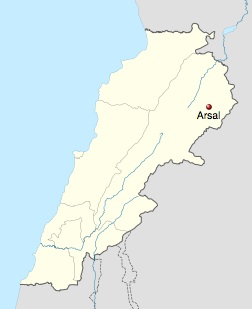 Hezbollah's al-Manar TV channel reported that Hezbollah ultimately repelled the attacks, and the Lebanese military reported that 22 people were killed in the fighting, eight from Hezbollah and the other 14 from ISIS.
Al-Manar also reported Hezbollah to have launched a retaliatory shelling against ISIS forces along the border nearer to Arsal, claiming to have killed a high ranking leader, though this has yet to be verified by any other sources. Ras Baalbek is about 5 miles north of Arsal.
With Hezbollah doing a lot of the heavy lifting for the Syrian military in resisting ISIS and al-Qaeda, they've made both themselves and Lebanon in general a target for the Islamist groups. Several incidents of border fighting have occurred around Arsal in recent months, and Hezbollah has been fighting intensely against al-Qaeda in Syria's Qalamoun Mountains, along the border, in past weeks.