Monitor group the Syrian Observatory for Human Rights has reported at least 49 civilians, including six children, were killed in Syrian airstrikes against the village of al-Janudiya, in the Idlib Province. It is unclear what the missiles were aimed at, but they hit a public marketplace.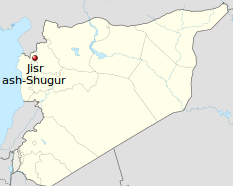 Rebel faction the LCC put the death toll at 60, and said they believed it was likely to rise because a number of people were also critically wounded in the strikes and not expected to survive. Syrian state media so far has not covered the incident.
Al-Janudiya, like virtually the entire Idlib Province, is under the control of al-Qaeda's Jabhat al-Nusra faction, which has been looking to expand westward against Syrian government-held territory on the Latakia coast. The village is just outside of Jisr al-Shughour.
As the war has dragged on, Syria's military has resorted to less and less accurate weaponry in targeting rebel factions, fueling a growing number of civilian deaths. This has commonly been the result of barrel bombs, though there was no indication anything other than missiles struck the village of al-Janudiya.