Suicide bombers from al-Qaeda's Nusra Front are leading an assault on the hospital complex in the northwestern Syrian town of Jisr al-Shughur, trying to force their way into the last government-held building in a town they took weeks ago.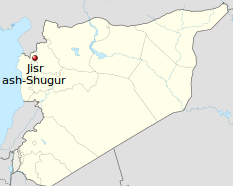 The Syrian Observatory for Human Rights reports that around 250 people, some soldiers and some civilians who took shelter there during the fall of the town, have been held up in the hospital for two weeks.
A suicide car bomber hit the building today, setting the stage for a new siege on the building, and trying to force their way in. Nusra forces have continued to secure the rest of the town, and the surrounding area, with little effort.
Syrian military forces have been trying to push their way back into the Idlib Province, and President Assad insisted that there would be an effort to rescue the people trapped in the hospital. So far, however, they appear far from putting a new siege to Jisr al-Shughur.
Last 5 posts by Jason Ditz