A day before the Israeli elections, Prime Minister Benjamin Netanyahu is taking a dramatic right-ward shift, first vowing to never allow Palestinian statehood so long as he's in power, disavowing years of nominal support for the two-state solution, and now vowing massive settlement expansions in occupied East Jerusalem.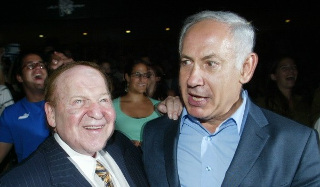 Netanyahu declared his intention to build "tens of thousands" of new settler homes across Arab neighborhoods in East Jerusalem, explicitly intended to make it impossible for any future government to cede the territory in part of a Palestinian statehood deal.
The comments were followed by another round of denunciations for the center-left Zionist Union, which is running against him, saying they intend to establish "Hamastan 2" in East Jerusalem.
Today's comments also dramatically extend the split with the US government, which has previously insisted they expect any Israeli government that results from the election to be in favor of the two-state solution. Netanyahu has made it clear he is taking the opposite position.