Tensions between President Obama and Israeli Prime Minister Benjamin Netanyahu are on the rise once again today, after Netanyahu announced he was going to the US at the behest of House Speaker John Boehner (R – OH) without an invite from the president.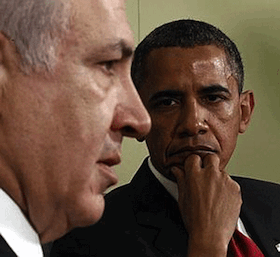 The White House warned it was a "departure from protocol," and it's setting the stage for an awkward moment, as Netanyahu plans to lobby for Iran sanctions to try to drum up enough support to override Obama's veto.
Israeli analysts are warning the move to undercut Obama on Iran risks further worsening US-Israeli relations, which are already getting worse and worse as time goes by.
Secretary of State John Kerry sought to downplay the move, saying Netanyahu is welcome to come to the US to undermine administration policy whenever he wants, but given that Netanyahu's stance toward Iran is facing considerable internal opposition, going to the US to lobby against negotiations is risky, to say the least.
Last 5 posts by Jason Ditz