Thirteen-plus years into the occupation of Afghanistan, one thing has been constant. Officials have been optimistic from the start, and seen "progress" being made in some vague way that cannot be measured in any rational manner.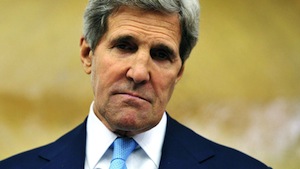 The new ISIS war seems to be going to same direction, with Secretary of State John Kerry today bragging about the "significant impact" the new war has made, despite ISIS still controlling pretty much everything they controlled when the US war began, and then some.
Kerry claimed that "roughly 1,000 air missions" were flown against ISIS and that it had "inflicted damage on its logistical and operational capabilities."
That's not the only part of the Afghan War the new ISIS war is mirroring, as Kerry went on to insist the war is going to be measured in terms of years, in a way that suggested that the number of years wasn't going to be a small one.
Kerry vowed that the US as well as its allies will "engage in this campaign for as long as it takes to prevail." Other US officials have predicted many years of war, with former Defense Secretary Leon Panetta projecting a 30-year war.
The administration is seeking to avoid a vote pushed by Sen. Rand Paul (R – KY) on a formal declaration of war against ISIS. Paul insists that constitutionally a declaration is required for the war, while the White House insists Obama has the authority for the war already, and is willing to consider an authorization for the use of military force as little more than a formality.
Constitutionalist Congressmen have pushed declarations of war in the past for wars, though rarely with the understanding, as Sen. Paul is insisting, that he supports the war itself.
Congress has not declared war since World War 2, despite myriad US wars during that time, and in recent administrations presidents have argued that, as commander-in-chief, they have unilateral war-making powers.
Last 5 posts by Jason Ditz