One day after Israel's cabinet collapsed over a fight about the Jewish statehood bill, Israel's parliament, the Knesset, has voted to dissolve and scheduled new elections for March 17.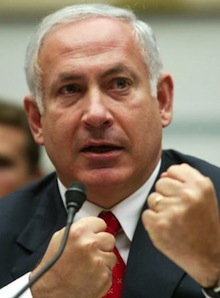 This sets the stage for what Netanyahu is hoping will be a move rightward for his already comparatively far-right coalition government. Polls indeed suggest a strong far-right majority now.
Cobbling together 60 seats out of the 120 in the Knesset is never easy, however, and even if the far-right does well, the long-standing dispute by Foreign Minister Avigdor Lieberman and the ultra-Orthodox parties will make it difficult to get over the 60 threshold.
In the last election, Lieberman's Yisrael Beiteinu Party ran a joint list with Netanyahu's Likud. This time, they will run separate lists, though there do seem to be some joint lists in the making among the opposition.
This parliament raised the percentage of votes required to get seats in the Knesset, with an eye toward lowering Arab representation. This has the Arab parties all talking of a joint list.
Perhaps much more importantly, Labor leader Isaac Herzog is trying to put together a major joint list among the center-left parties, with the hope of assembly an "anyone but Netanyahu" bloc.
This united list could include Labor, Yesh Atid, Hatnua, Kadima, and Meretz. The wild-card in this is Moshe Kahlon's as-yet-unnamed party, which is a new breakoff from the moderate side of Likud. If they become significant, they may end up a kingmaker. If not, it could be ultra-Orthodox Shas that once again holds the key for a majority by either side.
Last 5 posts by Jason Ditz