ISIS is continuing to push its offensive against the Kurdish border town of Ayn al-Arab, and reports on the ground say they've been more successful than previously suggested.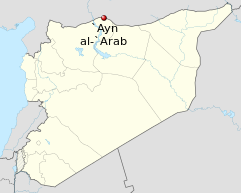 According to the Syrian Observatory for Human Rights, ISIS as seized more than 350 villages in the area in the last 16 days, and displaced at least 300,000 people from Ayn al-Arab and the surrounding area.
They continue to get closer to the town, too, despite large numbers of Kurdish militia fighters opposing them. On Monday, they were reportedly 5 km from town. On Tuesday they were 3 km away. This morning, they are said to be only "a few hundred yards" away.
Ayn al-Arab would give ISIS a long, contiguous border with Turkey. The bigger deal would be the psychological impact on the Syrian Kurds, however, who had been successful in defending the town in the past, but seem to be losing ground now in the wake of ISIS offensives.