President Barack Obama and British PM David Cameron are pushing the NATO summit to embrace the new war on ISIS in Iraq and Syria, insisting anyone who opposes this conflict is an "isolationist."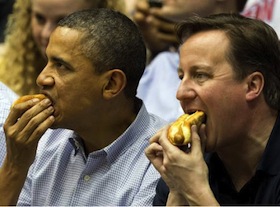 The two published an opinion piece in today's Times of London pushing for escalations of the war as a way to "strengthen" NATO as an alliance, and claiming ISIS is a threat to both US and British national interests.
Absent from the piece is that the ISIS threats to retaliate have picked up pace mostly as the US has begun and escalated its own airstrikes against ISIS targets in Iraq, and as Britain itself moves closer into the war.
NATO hasn't officially announced its position on the war, but Secretary General Anders Fogh Rasmussen isn't the international community has "an obligation to stop ISIS from advancing."
At the same time, Rasmussen insisted no request was yet made for NATO involvement in the war, though it seems like Obama and Cameron are moving very close to making such a request.
Last 5 posts by Jason Ditz