The Ukrainian military's "anti-terrorist" operation against eastern secessionists has finally reached the largest city involved, Donetsk, and they have reportedly attacked the suburb of Petrovsky.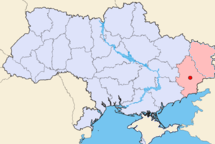 Heavy fighting has been reported in the suburb, and powerful blasts were reported in the city itself, with at least two civilians reported killed, including one elderly man slain by rocket fire.
Military officials downplayed the incidents, and also the chances of a quick resolution of the attack on Donetsk, saying there was a lot of fighting to go before the military could take over the city.
The impending offensive against the densely populated city has civilians pouring out of the area, fleeing the violence. Nearly a million east Ukrainians have been displaced, most of them going into neighboring Russia.