With all of the talks of the apparent shoot-down of Malaysia Airline Flight MH17 being a "game-changer," for the civil war raging in East Ukraine the game remains conspicuously unchanged, as battles continued apace, and the bullets never stopped flying.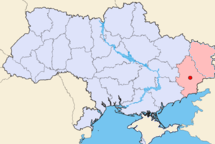 Ukraine continues heavy shelling of the rebels' de facto capital of Donetsk, with reports of more civilian casualties in the chaos, while the rebels managed to fight off a military offensive against Luhansk.
Overnight, Ukraine's military also claimed to have been fired on twice from positions on the other side of the Russian border, though as usual no evidence was offered to support that allegation.
After last week's offensive, Ukraine has pushed the rebels back to fewer cities along the border with Russia, though taking additional cities appears to be a difficult proposition, and the war seems no closer to ending.
Last 5 posts by Jason Ditz