The electoral commission for the People's Republic of Donetsk has announced a landslide victory in today's referendum in favor of the ballot question, saying roughly 89 percent voted yes.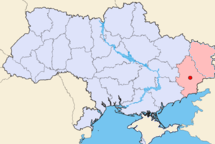 The referendum question simply asks if the voters support the creation of the People's Republic of Donetsk, and leaves open the question of exactly what that means, beyond support for the group leading the protests in the region.
Many of the protest leaders see the vote as giving them a legal mandate to operate as an autonomous entity, and are pushing to formalize themselves as an autonomous region within Ukraine.
Other protest leaders, by contrast, are presenting the move as a de facto vote for independence, with Governor Pavel Gubarev of Donetsk saying it marked the first step toward the creation of Novorossia as a new entity.
Last 5 posts by Jason Ditz