Tunneling attacks seem to be a new favored tactic in northern Syria, as for the second time in a week Syrian rebels have tunneled under an entrenched military position and planted explosives.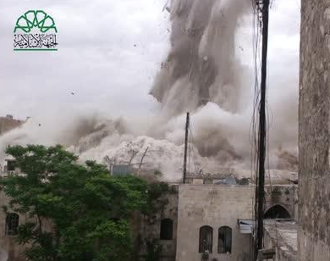 Today's attack claimed Aleppo's Carlton Citadel Hotel, and badly damaged many historic buildings in the vicinity, according to Syrian state media. Reports say at least 50 soldiers were killed.
Like a lot of big buildings in northern Syria, the hotel had been repurposed into a barracks for military forces fighting to keep the area, and was in the line of fire by rebels trying to expand their hold.
The attack was claimed by the Islamic Front faction, and was mocked by the military, who insisted they had to "use tunnels like rats because they cannot face the Syrian Army."
Last 5 posts by Jason Ditz