Three members of Ukraine's special forces have been captured in the eastern city of Horlivka today. Members of the Alpha 'anti-terrorism' unit, they were sent to capture the head of the Horlivka Self-Defense Force.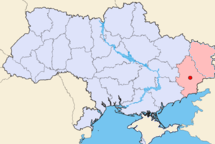 Instead, they got captured by the very force whose leader they were supposed to be capturing. Horlivka SDF leader Igor Bezier is charged with killing local MP Vladimir Rybak. The three captured soldiers were transferred to Slovyansk, a nearby protester-held city.
The capture of the Alpha troops spread concern across the protester-held region that there may be additional infiltrations by the Ukrainian military, which has been order by the interim government to "liquidate" the protesters.
The protesters continue to secure territory across two provinces along the Russian border, the Luhansk Province and the Donetsk Province. Today, protesters forced their way into the state TV station in Donetsk and captured the building. They say that they intend to stop the rebroadcast of Ukrainian state media and replace it with a Russian-language station more friendly to their movement.
Last 5 posts by Jason Ditz