Ukraine's transition from Russia's deadbeat ally to Russia's deadbeat enemy could be a serious problem for the rest of Europe, as Russia has warned EU leaders that the likely cutoff of gas supplies to Ukraine for non-payment could make it harder to export gas to the rest of Europe as well. President Vladimir Putin said that while his country intends to do everything it can to ensure continued supply to Europe, the Ukrainian government might siphon supply since the pipelines go through their country.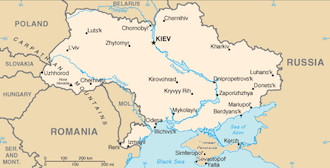 Even at the substantial discount they were being given before the recent regime change, Ukraine hadn't paid their gas bill in so long that officials say they could owe $30+ billion between the bills and the fines for late payment, more than the recent IMF bailout.
During the Yanukovych government Ukraine was perpetually behind on payments, and since his ouster, and Russia's announcement that it intends to stop giving them gas at a huge discount, the new government insists it just doesn't intend to pay at all.
Which has Russian company Gazprom talking up the plan of making them pay in advance for future gas, something Ukraine probably can't afford. Russian President Vladimir Putin has called for them to hold off on any cuts, but other officials say the company could find plenty of other paying customers for their energy if Ukraine stops being an option.
And that's not just Ukraine's problem, but the rest of Europe's, because of the difficulty in shipping the gas around Ukraine. Europe gets some 30% of its natural gas from Russia.
The US expressed outrage at the news that Gazprom was demanding to actually be paid for the gas, dubbing the threat to stop sending them essentially free gas was "coercion"
Last 5 posts by Jason Ditz