Turkish F-16 jets attacked and downed a Syrian MiG-23 today along the border between the two nations. The MiG pilot ejected safely, and the wreckage crashed almost a mile inside Syria.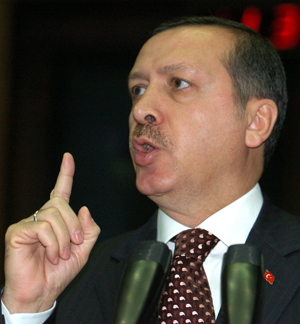 Syrian officials were quick to criticize the move as "aggression," while Turkish Prime Minister Recep Tayyip Erdogan portrayed it as a great military victory, saying it proved "if you violate my airspace, our slap will be hard."
Turkish analysts saw no military significance to the incident, noting that similar flights along the border by Syrian warplanes chasing rebels happen virtually every day. Rather, they suggested the timing of the incident was about Turkey's upcoming elections, scheduled for next Saturday.
Prime Minister Erdogan is struggling to cope with myriad scandals surrounding corruption in his government, scandals which led him to block Twitter late last week. Analysts quoted in the Turkish press virtually to a man said the need to distract from the scandal was the "main reason" for the shoot-down of the Syrian plane, and predicted Erdogan would hype the incident throughout the week.
Last 5 posts by Jason Ditz