The Syrian military has ousted rebels from the ancient Krak des Chevaliers today, chasing the rebels therein across the border into neighboring Lebanon. The army claims "at least 93" rebels killed in the fighting.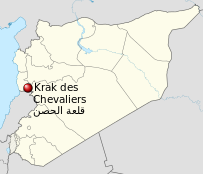 The Krak des Chevaliers was built by a Kurdish faction in the early 11th century, and seized during the First Crusade by Raymond of Toulouse. It remained a crusader fortress off and on for nearly two centuries, after which time the occupying Knights Hospitaller relocated to the Island of Rhodes.
Near 1,000 years old, the fortress obviously wasn't a very secure site for the current Syrian Civil War, but the rebels had set up a base inside as symbolic of their influence in the region. After the ouster from Yabroud, it was only a matter of time before the Krak was targeted.
Signs from inside the Krak suggest the rebels were taken by surprise at how quickly the offensive reached them, and a government tour of the interior of the site reported rebels had left food cooking on makeshift stoves inside, a hasty retreat that further secures military control of the area around Lebanon.
Last 5 posts by Jason Ditz