An Afghan National Army outpost along the Kunar Province border with Pakistan was overrun this morning by Taliban fighters who had apparently launched the raid from across the border, killing 21 soldiers. One Taliban fighter, an apparent suicide bomber, was also confirmed slain.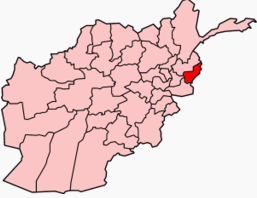 The fighters raided the remote outpost pre-dawn, killing many of the soldiers in their sleep, and captured at least five other soldiers, who they are still holding. Taliban spokesmen say they also looted a large cache of weapons at the site.
Officials say the Taliban fighters outnumbered the troops at the outpost, and that a "Taliban sympathizer" was also likely at the base, helping them launch the strike.
The Afghan military sent more troops to chase the Taliban out of the base, and those troops were also caught in an ambush en route by the suicide bomber. Officials say none of the troops were killed in that ambush, and that the search continues for the soldiers who are help captive.
Last 5 posts by Jason Ditz