Kidnapped in early December by al-Qaeda's Jabhat al-Nusra faction, a group of nuns taken from the tiny Christian village of Maaloula are still unaccounted for, but a new video suggests they are in basically good health, albeit still in rebel custody.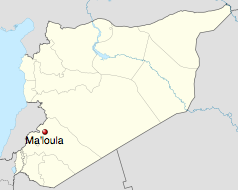 The details of their capture remain somewhat disputed, with al-Nusra claiming they "evacuated" them for their own safety at the time, but for some reason never got around to releasing them.
The latest on that is that whatever rebels are still holding them, and at this point it's unclear if they are still in Nusra hands or some other faction's hands, have been trying to trade their freedom for the release of female prisoners held by the Assad government.
The village of Maaloula has long been isolated from the rest of Syria, with the overwhelmingly Christian locals still speaking Aramaic. The civil war in the nation has put it among a string of long-isolated villages on the "front lines" between rebel-held and government-held territory, however, and this has drawn them into the middle of the fight.
Last 5 posts by Jason Ditz