Secretary of State John Kerry has insinuated himself directly into the Israel-Palestinian peace talks time and again, and most recently that has meant pushing the so-called "Kerry Plan," which neither Israel nor Palestine seems to like, as the end-all, be-all idea for a framework agreement.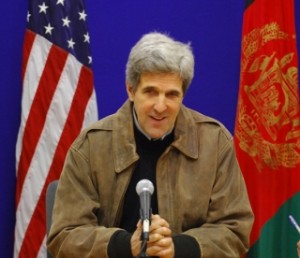 Kerry keeps ignoring the complaints on both sides and powering through to what he sees as the eventual acceptance of the deal, but is rather fueling anger from both sides at his surly tactics and perceived bias against both sides.
Israeli officials have been loudly, and daily issuing condemnations of Kerry, and is being called an "anti-Semite" by Israeli officials on a fairly regular basis. The US State Department is said to have issued a "warning" to Israel over what they called "distortions" of Kerry's position.
And if you think the Kerry-Palestinian relations couldn't possibly be worse, Fatah is openly talking about filing a complaint with the International Criminal Court against Kerry for comments he made during his most recent talk with Abbas.
Fatah leaders say that during the Kerry meeting, he told the Palestinian President he was expecting him to accept the Kerry Plan without reservations, and told him that he would "meet the same fate as his predecessor, Yasser Arafat" if he refused.
Arafat died in 2004 under what could kindly be called "mysterious circumstances" with massive amounts of polonium found in his body fueling speculation that he was assassinated.
Last 5 posts by Jason Ditz