The Republican National Committee's resolution calling for an end to bulk surveillance of Americans and dramatic revisions to NSA authority is sparking an angry backlash from several Bush-era surveillance hawks.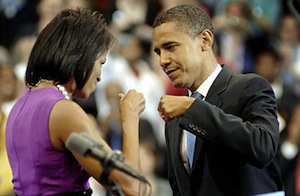 The open letter from Bush-era officials takes the bizarre joint position that 9/11 justifies massive increases in NSA surveillance to close a "intelligence gap" and that simultaneously no bulk surveillance program even exists.
The letter opens by claiming the resolution's criticism of telephone metadata collection and surveillance of Americans amount to "errors," claiming neither of those things is even happening, and accuses the RNC of trying to make it a "partisan issue."
The Obama Administration has often responded to leaks about the bulk surveillance by insisting that the reports, backed up by official documents themselves leaked to the public, are "false," and often keeps denying them long after it's been proven that they exist. The Bush-era letter seems to be following that tack, despite it being resoundingly unsuccessful.
Last 5 posts by Jason Ditz