Yesterday's violence in Egypt portended much larger problems today, as the third anniversary of the Egyptian Revolution saw crackdowns against major protests, and at least 29 people killed.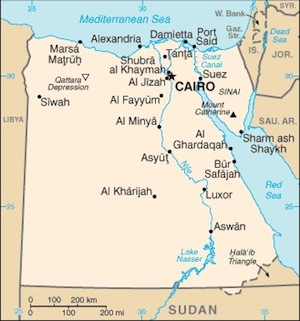 Thousands of supporters of President Morsi, elected in the first vote after the revolution but ousted last summer by the military, were attacked by troops, who fired tear gas and in shot automatic weapons in the air to try to disperse them. 139 protesters from Morsi's Muslim Brotherhood were arrested as "terrorists" for taking part in the rallies.
Tahrir Square, the site of the anti-Mubarak revolution, saw an entirely different sort of rally, however, with army marching bands playing and tens of thousands of junta supporters arriving to pledge their support for military rule.
Underpinning the "military rule" thing is Mubarak's soon-to-be successor, Gen. Abdel Fattah El-Sisi, who oversaw the coup and claims to have seen former ruler Anwar Sadat in a dream, where Sadat told him he would one day be president.
Sisi is the overwhelming favorite to win any future elections Egypt may hold, since the only significant rival parties have been virtually banned from running at all, and junta violence during the constitutional referendum showed that not voting the way the military wants is an exceedingly dangerous thing.
Last 5 posts by Jason Ditz