Saudi Prince Turki al-Faisal has made no bones about his hopes that the US would've invaded Syria by now, and complained today in Davos that US foreign policy is increasingly disengaged from the region and lacking in direction. Other officials from Turkey and Israel echoed those comments.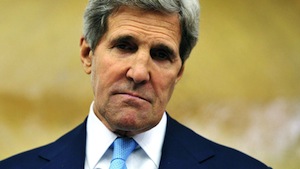 Secretary of State John Kerry, who was also a big war enthusiast, didn't care for that, insisting it was a "myth" and that he was "perplexed" by the claims that the Obama Administration is less interventionist than previous ones.
"You can't find another country – not one country – so proactively engaged or that is partnering with so many Middle Eastern countries," Kerry insisted, going on to detail his efforts at Israeli-Palestinian peace talks and the Iran nuclear deal.
Kerry's comments reflect the administration's continued ambition for wholesale intervention the world over, but at the same time a failed push for war with Syria appears to remain a sore spot with him.
Last 5 posts by Jason Ditz