A number of Israeli Arab leaders, including MPs, have expressed strong opposition to proposals, pushed by Foreign Minister Avigdor Lieberman, to "swap" a large number of Arab towns to the Palestinians.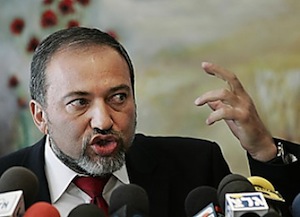 UAL MP Ahmed Tibi insisted Lieberman was alone in pushing the plan and that it wasn't serious, but recently other reports have suggested the idea is being broached by Israeli officials to the US.
Lieberman pushed the idea again today, insisting he would never support any peace deal that didn't include "exchanging" a large number of Israeli Arab people to the Palestinians as a basic condition.
With Naftali Bennett angrily condemning peace in general, Lieberman has tried to position himself as the moderate in the Israeli government, embracing the theory of a peace deal so long as it includes his demands.
Last 5 posts by Jason Ditz