Secretary of State John Kerry is in the Middle East today, pushing his "framework agreement" aimed at kickstarting Israeli-Palestinian peace talks and making some actual, real process after months of negotiations have yielded little to nothing.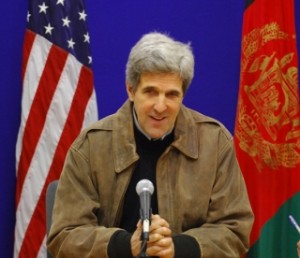 Kerry conceded that the agreement would be "very, very difficult" to reach, but pushed forward with his typical, unjustified optimism, even as indications are that neither side seems particularly on board with his plan.
Kerry's visit has already sparked two protests, one on each side, and his framework has already sustained some pretty public rebukes, with the PLO insisting the plan was "worthless" and Senator John McCain (R – AZ), in town to get in on the lack of progress, declared Netanyahu had "serious, serious concerns" about the merits of the Kerry plan.
At it's core, the Kerry plan involves the Palestinians agreeing to recognize Israel as a "Jewish state" from now on, and the Israelis agreeing to negotiate along pre-1967 lines for Palestinian statehood. Each of those things is something the sides have long rejected.
This time around, they're both giving some lip-service to the idea, but seem to be shaping up for the eventual collapse, and are both waiting for the other side to say no first so they won't be the one blamed for the failure.
Last 5 posts by Jason Ditz