In what will, if confirmed, amount to a major policy shift for the Netanyahu government, Israeli Channel 10 is quoting Likud sources saying the Israeli PM favors Secretary of State John Kerry's framework and is prepared to negotiate a Palestinian state on the basis of the 1967 border.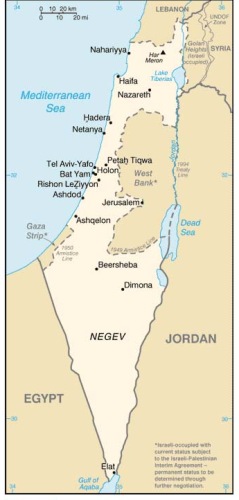 Netanyahu has repeatedly ruled out the 1967 borders in the past, saying the previous borders were "indefensible." Other key members of his government have claimed religious opposition to the pre-1967 borders, with Naftali Bennett in particular insisting the whole of the occupied territories must remain Israeli occupied forever.
Kerry's framework agreement reportedly involves the Palestinian Authority endorsing Israel's status as a Jewish state and Israel endorsing statehood along the 1967 borders, and while the general consensus was that this was a non-starter, that may no longer be the case.
Palestinian politicians have been reluctant to touch the "Jewish state" issue because of the implications for Palestinian refugees expelled from Israel during the Nakba. The 1967 borders have been equally touch for Israeli officials to get behind because of massive settlement across the Green Line.
Last 5 posts by Jason Ditz