Israel "completed" its third stage of prisoner releases today, freeing 26 Palestinian prisoners, and giving themselves an excuse for another announced settlement expansion later this week.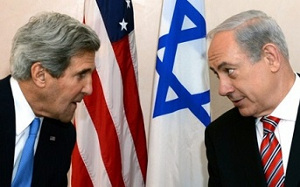 The real story, however, was that Israel reneged on other forthcoming releases, announcing that a number of the agreed to detainees were later discovered to have Israeli ID cards.
Prime Minister Benjamin Netanyahu did say he was open to releasing those detainees, like they were supposed to, but only if the United States agrees to trade them convicted spy Jonathan Pollard.
Israeli officials went on to claim that they felt "deceived" by Secretary of State John Kerry on the releases, and were never told that the list included Arabs with Israeli ID cards.
Netanyahu is reportedly planning to continue with the April release, but will release a totally different group of people than what was agreed to, and has the Prison Services coming up with lists of Arabs without ID cards they can exile to Gaza or the West Bank.
Last 5 posts by Jason Ditz