After parlaying his 2010 electoral defeat into another term in office, the April mid-term elections for Iraq could be even more difficult to Prime Minister Nouri al-Maliki, with soaring death tolls and major sectarian tensions.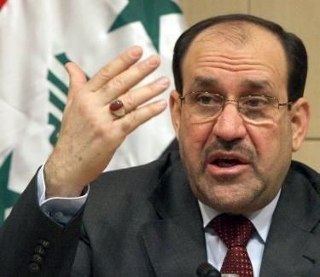 Some of his closest partners don't like his chances either, as two of the top MPs in Maliki's party have left, with Izzat Shabander saying he'll run as an independent and Sami al-Askari saying he wants to form a competing party.
The two didn't go quietly, either, instead condemning Maliki's crackdowns on the nation's Sunni minority as counterproductive and fueling unrest. Shabander said that Maliki's position was ideologically sound, but that his poor tactics were putting the party in a sectarian light, and that the prime minister didn't seem to have any other solutions besides mass arrests.
"Two hundred people are arrested in a village, even though only 10 are wanted, so 190 people think that the only reason they were arrested was because they were Sunni," noted Shabander, reflecting increasing concerns that Maliki's policies are going to hurt State of Law in the elections.
Askari concurred, saying he'd brought up the problem with Maliki several times but that the prime minister simply wouldn't listen. Askari says his new party aims to attract former State of Law voters that have become diseffected by Maliki's policy failures.
Last 5 posts by Jason Ditz