In a move that suggests once again no real reform of NSA surveillance is imminent, the US Supreme Court has refused a petition by the Electronic Privacy Information Center (EPIC) to weigh in on the constitutionality of mass surveillance of American citizens.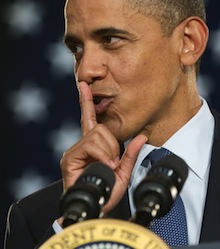 The refusal came with no comment, no justification, nor any dissent from justices who might've felt otherwise, and didn't appear to leave open any prospect for a change of heart.
That's in keeping with the Obama Administration's position. The administration has argued that the Supreme Court doesn't have jurisdiction to rule on NSA surveillance, and has in the past argued that lower courts don't have jurisdiction either.
EPIC has argued that the FISA courts had exceeded their authority in ordering Verizon and other phone companies to hand over telephone data on literally everyone, and the issue of such surveillance remains a matter of intense debate in Congress, with Sen. Patrick Leahy (D – VT) pushing a bill that would remove the nominal legal pretext for such surveillance. The question of whether the law as currently written is being violated appears set to remain unanswered.