Secretary of State John Kerry's ongoing foreign tours continue to focus on dismissing the complaints of allies as unfounded, and insisting that they should simply trust President Obama to get things right.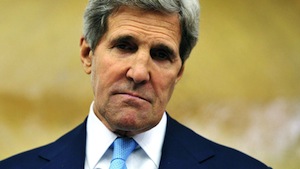 On today's visit to Poland, Kerry faced major questions about NSA surveillance of EU leaders and companies, with growing outrage threatening to derail trade talks and doing major harm to diplomatic ties with nations across the world.
Kerry's message was essentially to get over it, insisting that the trade pact is a "separate" issue and growing outrage about industrial and political espionage by the US shouldn't have any impact on it.
Likewise, Kerry insisted that President Obama was already "reviewing" the controversy and would figure out how to strike the "right balance" on security and privacy, an argument that hasn't been particularly credible domestically and is even less so internationally.
Last 5 posts by Jason Ditz