Top provincial leaders in Eastern Libya have announced to formation of an "autonomous regional government" that will operate in parallel with the central government in Tropli, the latest step toward independence in post-war Libya.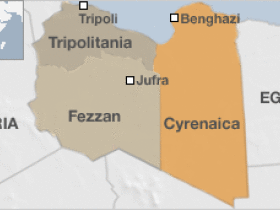 So far the movement is insisting they will stop short of outright secession, but today's ceremony saw Libyan flags conspicuously absent, replaced by the flag of independent Cyrenaica.
Former air force commander Abd-Rabbu al-Barassi was declared the prime minister of the region. The central government has rejected the idea of "self rule" as unacceptable.
But there's been a clear trend toward autonomy in Cyrenaica back to the rebellion against the Gadhafi regime. Cities like Benghazi have been virtually independent since then, with the central government's control even in Tripoli incomplete at best.
Last 5 posts by Jason Ditz