Though the efforts to villainize him continue apace in DC, NSA whistleblower Edward Snowden expressed hope that international pressure would eventually force the US to ditch its attempts to prosecute him for leaking the truth about its surveillance programs.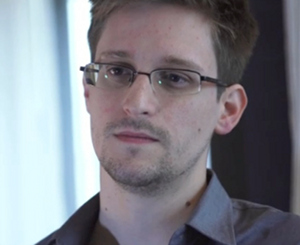 The comments come in part of a letter Snowden wrote to a German MP which raised the prospect both of him testifying to the German government, and potentially to the US Congress once the threats against him die down.
In the letter Snowden also complained about the Obama Administration treating "dissent as defection," and that he felt he had a moral duty to tell the truth about the surveillance.
That could take awhile, however, as each new NSA scandal that emerges takes a sidetrack during Congressional hearings so the likes of Rep. Michelle Bachmann (R – MN) can ask administration officials if Snowden is officially a traitor because of this. Other than Justice Department figures who declined comment citing the pending case, they have consistently said "yes."
House Intelligence Committee chairman Rep. Mike Rogers (R – MI), even insisted that the privacy violations only existed because of Snowden, arguing "you can't have your privacy violated if you don't know your privacy is violated."
Snowden's lawyer said he would advise him against traveling outside of Russia, where he has temporary asylum, to provide any testimony on surveillance, unless he is first given guarantees that it won't put him in any danger. Given the hysteria among advocates of the surveillance state, that's a guarantee that may be hard to come by indeed.
"To whom it may concern,
I have been invited to write to you regarding your investigation of mass surveillance.
I am Edward Joseph Snowden, formerly employed through contracts or direct hire as a technical expert for the United States National Security Agency, Central Intelligence Agency, and Defense Intelligence Agency.
In the course of my service to these organizations, I believe I witnessed systemic violations of law by my government that created a moral duty to act. As a result of reporting these concerns, I have faced a severe and sustained campaign of persecution that forced me from my family and home. I am currently living in exile under a grant of temporary asylum in the Russian Federation in accordance with international law.
I am heartened by the response to my act of political expression, in both the United States and beyond. Citizens around the world as well as high officials — including in the United States — have judged the revelation of an unaccountable system of pervasive surveillance to be a public service. These spying revelations have resulted in the proposal of many new laws and policies to address formerly concealed abuses of the public trust. The benefits to society of this growing knowledge are becoming increasingly clear at the same time claimed risks are being shown to have been mitigated.
Though the outcome of my efforts has been demonstrably positive, my government continues to treat dissent as defection, and seeks to criminalize political speech with felony charges that provide no defense. However, speaking the truth is not a crime. I am confident that with the support of the international community, the government of the United States will abandon this harmful behavior. I hope that when the difficulties of this humanitarian situation have been resolved, I will be able to cooperate in the responsible finding of fact regarding reports in the media, particularly in regard to the truth and authenticity of documents, as appropriate and in accordance with the law.
I look forward to speaking with you in your country when the situation is resolved, and thank you for your efforts in upholding the international laws that protect us all.
With my best regards,
Edward Snowden,
31 October 2013."