An apparent US drone strike destroyed a vehicle in the Juba region of southern Somalia, killing two people in the early afternoon. The two slain were both confirmed to be Somalis.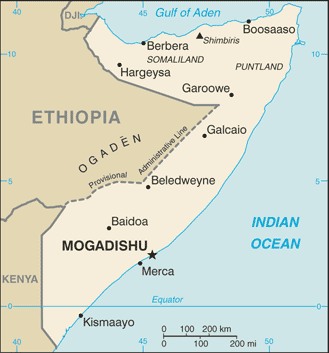 Details beyond that are a bit more speculative, with the Associated Press claiming both of the slain were also "senior leaders" in al-Shabaab, though neither was actually named.
Witnesses of the strike say that the bodies wee taken away by al-Shabaab members, suggesting the victims were at least members of the group, though it has not commented on the deaths yet so it is impossible to confirm.
Though not as common as drone strikes in either Pakistan or Yemen, the Obama Administration has shown an interest in striking areas across Somalia as well. With the targeted territory well outside of the control of the self-proclaimed Somali government, the strikes seem even less likely to elicit any international reaction than the rest.
Last 5 posts by Jason Ditz