Israeli Intelligence Minister and Strategic Affairs Minister Yuval Steinitz has long been insisting that Iran's efforts to negotiate a nuclear deal were some sort of trick, but today conceded that Iran really does want a deal.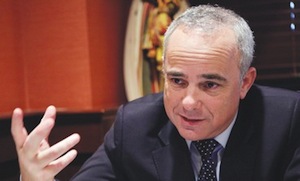 "I think they are serious, they want an agreement," Steinitz admitted in an interview today with al-Monitor, followed up with calls for the P5+1 to use Iran's willingness to deal to impose extremely harsh terms on them.
Steinitz said the P5+1 should tell Iran that the time for negotiation is "over" and that they will have to either except the Israeli-dictated terms of full abandonment of their program or face the total destruction of their economy.
Though progress is continuing with the talks between Iran and the P5+1, a deal is still a long way away, and Israeli officials seem determined to tack on new conditions to talks they aren't even involved in, with an eye on keeping any deal form being reached.
Last 5 posts by Jason Ditz