Speaking today in video comments to the AIPAC conference, Secretary of State John Kerry urged the major Israel Lobby to publicly support Prime Minister Benjamin Netanyahu on peace talks with the Palestinians.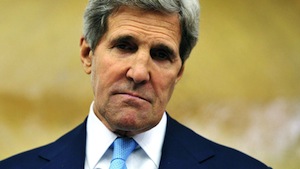 The Israeli-Palestinian peace talks have been hugely controversial inside Israel's government, with hawks, including many in the Likud Party, warning against any deal in general and more moderate factions accusing Netanyahu of trying to sabotage the talks to placate those elements.
AIPAC has been very reluctant to stake out a position on the talks, issuing a single statement when the talks were announced "welcoming" them but not publicizing that fact. Staking out a pro-Netanyahu position would be in keeping with their own relative ambivalence on the process, as it would avoid hitching their wagon to actual pro-peace figures without taking an overtly anti-peace stance either.
At the same time, Kerry's comments are a particularly unusual attempt to use AIPAC as an American group lobbying Israel, when it has historically centered itself around lobbying US politicians on behalf of a certain segment of Israel's leadership. So long as Israel's own coalition government remains intensely divided on the issue, AIPAC seems unlikely to weigh in more forcefully.
Last 5 posts by Jason Ditz