A car bomb detonated in the marketplace in the Syrian town of Darkush, in Idlib Province today, killing at least 27 people and wounding a large number of others. Locals say the toll may yet rise as a number of the wounded are not expected to survive.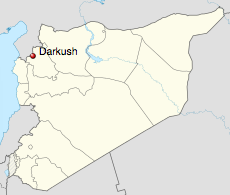 Darkush is part of the key transit route for rebel weapons and fighters coming from neighboring Turkey, and the town has been under control of certain rebel factions for months. There has been no claim of credit for the attack.
The Syrian National Coalition (SNC), the pro-US rebel umbrella, insisted that they are blaming the Assad government for the strike, but the military has not been using car bombings in the past. Rather, al-Qaeda seems the more likely suspect, and they have been fighting with the SNC over control of other border areas.
Darkush is typical of a growing portion of Syria in that it has been a site of sectarian cleansing in the civil war, with the town's Alawite residents having been chased out and a number of Sunnis, themselves displaced from other towns, taking up residence in their homes.
Last 5 posts by Jason Ditz