Residents of the south Somali town of Barawe are used to trouble, with the nation constantly facing foreign invasions aimed at installing the self-proclaimed government in power, and the town itself regularly the site of fighting.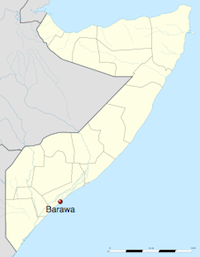 But the weekend raid by US troops against al-Shabaab fighters near the town has everyone particularly on edge, and worrying that with the US troops fleeing in failure, the locals might well be the target for retaliation.
The town is a key possession of al-Shabaab, doubly important since they lost Kismayo in a Kenyan invasion, and with the US raid involving some unspecified "intelligence" there is likely suspicion among the militants' leadership that there are spies in the town.
Islamist factions like al-Shabaab are notoriously harsh on "collaborators," but often not particularly rigorous in investigating their suspicions. With the group preparing for future US raids in the area, rooting out "suspects" may be particularly high priority.