Iranian President Hassan Rohani is in New York City today, with plans to address the UN General Assembly on Tuesday afternoon. He and his foreign minister, however, have much more in mind for their New York trip than just the annual UN meeting.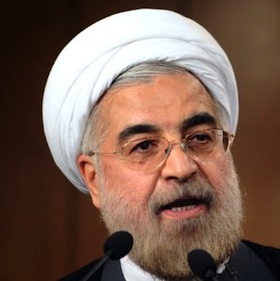 Rohani campaigned on a platform of diplomacy, and that's clearly on everyone's mind, with not only the General Assembly meeting, but a Non-Aligned Movement (NAM) meeting and a P5+1 meeting also confirmed for this week.
The EU confirmed that the P5+1 meeting, which will be held alongside the UN assembly, and is the first time Iran has met with the nations since Rohani's inauguration.
More than just the side meetings, though, the appearances will also be Rohani's coming out party, a chance to introduce the world to the new Iran and its new, reformist-minded government.
There's also the possibility of an historic meeting with US officials, something that hasn't happened in decades, and which Rohani and others have been pushing hard for. Getting the US to go along with such talks may not be simple, but it's going to be harder and harder for the Obama Administration to justify shutting Iran out.
Last 5 posts by Jason Ditz