After ratifying the Chemical Weapons Convention (CWC) and delivering Syria's accounting of its chemical weapons arsenal to the OPCW ahead of schedule, Syrian President Bashar Assad indicated his eagerness to get the disarmament program going.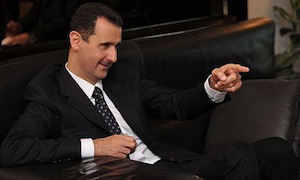 In an interview with Chinese media today, Assad said Syria was ready to provide access to the sites to all international experts involved in the disarmament. The experts' inspections are the next stage in the process, and while overseas officials have provided no specific timetable for that, Assad suggested they could come at any time.
Assad said getting the inspectors to the sites was not going to be a problem, but warned that rebel fighters might make some of the sites harder to reach. The rebels have condemned the disarmament deal.
Officials have expressed hope that Syria's disarmament could be completed by mid-2014. This seems wildly optimistic, as both Russia and the US repeatedly missed deadlines on their own arsenals, and decades after starting the process both are still far from disarmed. If Syria's can truly be done in nine months in the middle of a civil war, it is bound to raise questions of why a US disarmament started in the Nixon Administration is still going on nearly half a century later.
Last 5 posts by Jason Ditz