With a meeting between US and Iranian leaders almost certain to happen later this month, the two sides have exchanged letters each assuring the other of their willingness to negotiate.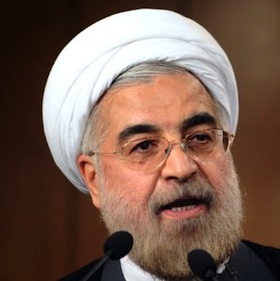 Iranian President Hassan Rohani appeared on NBC News in a new interview pushing diplomacy, saying that he has been given complete authority to negotiate a deal and reiterating Iran's long-standing ban on making nuclear weapons.
President Obama, for his part, says there is an "opportunity" for diplomacy, and that he intends to "test" Iran's willingness to make a deal, comments immediately rejected by Israeli officials, who insist no deal is possible without more sanctions and more threats.
Israeli Prime Minister Benjamin Netanyahu is planning his own meeting with US leadership, and is laying out a new series of demands that he wants to see imposed on Iran under threat of US invasion, including a full abandonment of its civilian nuclear program and the surrender of all civilian enriched uranium, saying that unless Iran agrees to everything, the US needs to increase threats against them.