Former Pakistani dictator Pervez Musharraf has been indicted on charges of murder and conspiracy for the 2007 assassination of former Prime Minister Benazir Bhutto.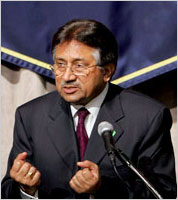 The charges are an historic first for the nation, as since Pakistan's independence, the nation has never attempted to charge any military chief past or present with any crime before.
Musharraf was among seven people charged in the assassination, including two police chiefs and four suspected militants. Musharraf's aide, Major General Rashid Qureshi, insisted that the charges are "politically motivated" and his lawyers insist the evidence of his involvement was all fabricated.
Musharraf had previously insisted that Bhutto "knew" that she was taking a risk of being assassinated inside Pakistan, and that he had personally warned him about it before she was killed. The efforts to charge Musharraf had previously been delayed for months after the chief prosecutor was mysteriously assassinated en route to the court.
Last 5 posts by Jason Ditz