Former IAEA chief and briefly junta Vice President Mohamed ElBaradei was an outspoken supporter of last month's military coup, lauding it as a continuation of the revolution of 2011. The military was eager to stick him in the cabinet because of his close ties with Western nations.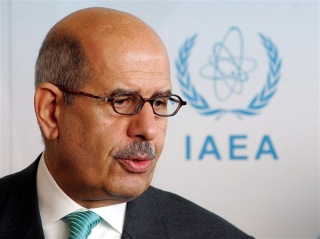 But ElBaradei was quick to resign last week when the massacres began, insisting he had warned the military against such bloody crackdowns. Now he faces prosecution for his resignation, with the military accusing him of "betrayal of trust."
If convicted ElBaradei could face a three year prison term, though he wisely fled the country after his resignation, and probably won't attempt to go back so long as the military is in power.
The junta is pushing ahead with charges against President Morsi and other officials within Egypt's elected government as well, primarily charging them with "incitement" for organizing protests opposing the military's takeover. While those sort of politically-motivated trials are unseemly enough, the decision to prosecute ElBaradei, who was on their side, just for not being on the massacre bandwagon, is an even clearer sign that the new regime is unwilling to brook any dissent.