In the village of al-Nazla, Christians and Muslims have lived side-by-side for generations without incident. Today, Christian churches find themselves increasingly targeted by supporters of the Muslim Brotherhood, the ousted civilian government.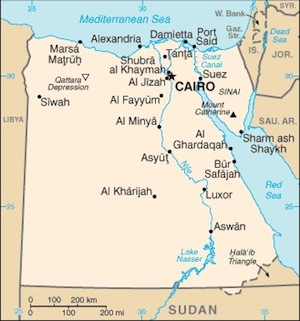 It's not coincidental. As religious leaders tried to explain the protests against the Morsi government in the lead-up to the military coup, they regularly claimed that the protesters were overwhelmingly Christian.
Now, with the military in power and massacring Muslim Brotherhood protesters in Cairo, the group's angry supporters elsewhere in the country are finding the Christian a convenient scapegoat, even though by and large they're tried to stay out of it.
Such attacks are a win-win for the junta, which can claim Christian backing they didn't necessarily have to begin with and can also claim to be fighting "terrorist" Islamist protesters as a way of selling its massacres to the international community.
Last 5 posts by Jason Ditz