It's a testament to how screwed up of a place Egypt has become that a Sunday which saw 38 protesters suffocated to death in a police van could also reasonably be called a day of relative calm.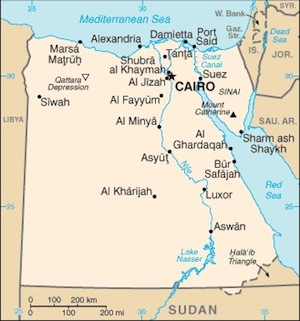 But that's junta-ruled Egypt, with daily massacres and a toll that almost certainly reaches into the thousands for the past five days. Today's toll was only kept down because, in the face of a military build-up at their planned protest site, a rally was cancelled.
Or at least postponed. The situation is far from resolved, and with junta PM Hazem el-Beblawi calling to outlaw the opposition and insisting "there will be no reconciliation," the worst may still be to come in Egypt.
Military ruler Abdel Fattah el-Sisi also suggested the crackdown would continue, though facing growing Western condemnation he also sought the pretense of offering reconciliation to those who "don't have blood on their hands." The state media portrayed the situation as virtually resolved, and the protesters "beaten."
That's a mistake made time and again by dictatorships during the Arab Spring, who never seem to notice that massacring protesters just makes the following protests even bigger. Opposition leaders say that the rallies will continue throughout the week, and likely beyond, as they demand a return to civilian governance.
Last 5 posts by Jason Ditz