Repeated threats by Egypt's military junta to "crush" the protesters calling for the return of the civilian government finally became a grim reality this morning, as police surrounded the camps in Cairo and elsewhere and opened fire on the sit-in demonstrators in a slaughter the scope of which is still yet to be realized.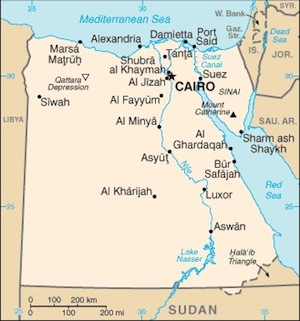 The official toll from the junta's own Health Ministry puts the tentative toll at 638 killed and over 3,750 wounded. The Health Ministry had previously put the toll at only 281, and the Interior Ministry was claiming less than 100.
The "official" tolls are likely to remain low of the final total for awhile in this case because a lot of the casualties haven't been able to reach real hospitals in all the chaos, and doctors have turned local mosques around the area into makeshift hospitals.
The massacres sparked violent retaliation from the demonstrators, and dozens of police were reported slain, though the vast majority of the killed and virtually all of the wounded were innocent civilians.  Two journalists were also reported killed, shot dead by police while covering the protests.
For the past several weeks, the Egyptian protesters had focused on demanding the return of ousted President Mohamed Morsi, who was removed by the military in July. After today's massacre, the focus is likely to center around removing the junta leadership and everyone else involved in the killings.