Former Iranian President Mahmoud Ahmedinejad spent the better part of his last term in office battling with pro-clergy hardliners in parliament who didn't care for his cabinet choices, packed with secularists. Ahmedinejad's gone, but the battle over the face of Iran's cabinet continues.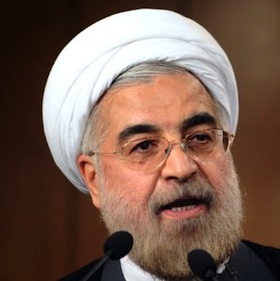 New President Hassan Rohani has submitted his own list of nominees, including a number of Western-educated candidates and reformists, and is facing an uphill battle getting confirmation from the same forces in parliament, who accuse him of submitting a "pro-West" cabinet.
Anger centered on the Education and Science ministries, and of course the extremely powerful Oil Ministry will be a battle. Rohani defended his nominees as moderates, saying Iran is "tired of extremism."
But while Ahmedinejad was a polarizing figure that a lot of the clergy didn't like, Rohani's long-standing ties to top clergy leadership, particularly during the early years of post-revolution Iran, has enough pull that he can realistically fight for his nominees pretty safely.
Rohani emphasized his government's efforts to improve international diplomacy, and said that domestically his goal will be to control inflation.